Growing America's Best Small Businesses, One Leader At A Time
Cultural Integration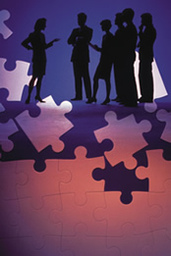 The need for integration of various organizational cultures is becoming more and more frequent due to globalization, consolidation across industries, and organizations' increased use of mergers and acquisitions as a key growth strategy.
According to the Vector Group,
60% - 70% of all mergers fail
because of a lack of culture integration.
Unfortunately the cultural implications of many large scale organizational change efforts are frequently underestimated because most of the focus is on process and policy changes. Underestimating the cultural impact of change efforts can result in big cost implications including:
Increased employee turnover due to the confusion over and/or loss of the existing culture
A long transition period before the integration process and plan are implemented resulting in employees—often those who are high performing—looking for opportunities outside the organization
Reduced productivity, particularly among middle and upper management who bear the biggest responsibility for damage control
Ineffective integration design/solutions resulting from a failure to adequately involve employees affected by the changes
Increased frustration, lower productivity and loyalty among employees due to changes in their work assignments, routines, reporting structures and uncertain futures
Unclear communication about the organization's future vision and goals
Confusion and frustration among customers and strategic suppliers as a result of changes in key contacts, employee responsiveness, etc.
Potential reduction in overall market share for failing to identify and ensure the adoption of the necessary behaviors associated with superior value for customers
The need to successfully integrate cultures, whether precipitated by a merger or acquisition, development of a new business unit or division, labor-management difficulties, etc. can represent a real challenge for leaders. To truly create shareholder value, an effective integration of employees and culture needs to occur. In dealing with multiple cultures, organizations would benefit if business leaders leveraged the knowledge they have already gained through strategic or business planning, the due diligence process, labor-management negotiations and the like to inform the process of identifying the new entity's desired culture.
Where a merger or acquisition has occurred in different countries or regions, an understanding of the local culture and business environment is also necessary. An effective integration starts with a strategy and framework for cultural integration including an aspirational cultural profile, an analysis of where the organizations/divisions/units are today, and what it would take to reach the desired future state.
Even when leaders are aware of the importance of culture, many often attempt to bring about cultural integration using a top-down approach aimed at influencing behaviors and practices. These efforts often fail because they address the effects of culture without identifying and/or addressing the underlying causes.
The focus of
The Markum Group LLC's
Cultural Integration Framework is to first help employees identify and address those attitudes, assumptions, and ways of thinking that drive organizational behavior in their existing cultures. Next, the framework helps employees look at common goals and values across the two entities on which to build the new culture while also identifying the most important workplace behaviors to support it. These new behaviors can then be coached throughout the integrated organization/division/unit.
With
The Markum Group, LLC's
framework the focus on cultural integration is primary while employees of the organization attend to other integration issues such as process and policy implications. By focusing on the importance of culture and avoiding a "top down" only approach, the organization/division/unit is able to achieve greater buy-in across the integration effort thereby significantly increasing momentum and ultimately creating positive, sustainable change.
Contact Onzelo at 832.377.1031 or via
e-mail
when you are ready to jump start or accelerate your journey towards high performance.
---