Growing America's Best Small Businesses, One Leader At A Time
High Performance Team Development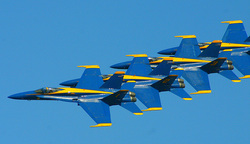 In most organizations today, the untapped performance potential of teams is enormous. In recent years, the use of teams has expanded greatly in response to competitive challenges. Yet, teams often fail to live up to their potential especially when it comes to making critical decisions about when, where and how to team.
When team implementation lacks the necessary planning and forethought, the chances of the organization profiting from the use of teams is drastically reduced. When intact teams lack clear understanding of their purpose and priorities, larger environment and learning plan as well as systems and behavior to support and sustain high performance, the chances of the organization profiting from the use of teams is also drastically reduced.
In response to under performance, leaders often attempt some form of team building effort. The impact is often short lived as the team falls back into its "old patterns" because the underlying reasons, often complex and multi-faceted, for the under performance were never addressed. High performing teams require a delicate balance of leadership, vision, candor, systems, skills, behaviors and accountability. Without addressing these elements, the under performance is unlikely to change.
Onzelo
assesses and builds higher team performance by assisting teams at all levels of your organization to:
Clearly define their purpose and priorities—teams need to know what they are trying to achieve and why before they can focus full attention and effort where it's needed.



Understand their environment—teams exist by consent of the organization's larger social environment and culture as well as their own members. Where the expectations, purpose and/or beliefs of these two forces conflict, the coach can help identify the source and impact of the conflicts and help the team establish practical ways to resolve or defuse them.



Identify and tackle barriers to performance—increase awareness of obstacles preventing the team from working at peak efficiency and the gaps between what the team is supposed to achieve and what it is actually achieving. Gaps might result from skill deficiencies of individual team members or across the entire team as a whole or from structures, systems, know-how or behavior.



Build the team learning plan—the learning plan underpins targets and goals with practical ways of developing capability and capacity; it defines what the team and the individual members need and want to learn and how this will contribute to the overall business purpose and objectives.



Grow confidence in themselves and their behavior—the coach works one-on-one with the team leader, with each of the team members and as a group to accept and value different contributions, understand how the pressures of the team leader differ from those of individual team members, understand how each individual team member impacts the dynamics of the team, and develop the feedback processes to recognize day-to-day achievements.



Develop the systems, skills and behaviors to internalize coaching— over time, develop the system, skills, behaviors and maturity as a team that benefit from constructive conflict and promote trust, camaraderie, effective decision making, accountability, resource management, initiative and quality, and candid dialogue not dependent on the facilitation of an external coach.

The strength of these inter-related elements determines the quality of the team's results. Without making improvements across all of these elements, a team is unlikely to realize it's full potential and deliver sustained high performance.
---
Contact Onzelo at 832.377.1031 or via
e-mail
when you are ready to jump start or accelerate your journey towards high performance.