Growing America's Best Small Businesses, One Leader At A Time
What is Organizational Culture & Why Does It Matter?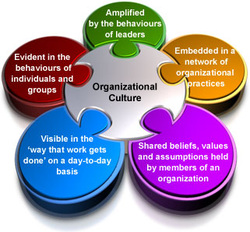 Culture reflects "how we do things around here." It is the shared assumptions that a group has learned from its successes over time. Culture is a powerful and often unconscious set of forces that influences both individual and collective behavior.

Organizational culture matters because cultural elements determine an organization's strategy, goals, and methods of operating. To improve the performance and success of an organization, leaders must understand the important role culture plays.


Organizational culture is important because it's been shown to have a significant impact on organizational performance. Cultures that support the mission, goals and strategy of an organization serve to ease communication and coordination and provide a means for dealing with change and conflict when they arise. The impact of organizational culture on company performance cannot be overstated.


---
Contact Onzelo at 832.377.1031 or via
e-mail
when you are ready to jump start or accelerate your journey towards high performance.