Growing America's Best Small Businesses, One Leader At A Time
High Performance Culture Building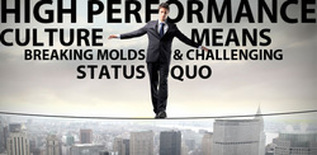 Your culture will determine whether your organization builds on past successes or implodes in the face of adversity. As a leader, you should know that
your culture is built by design or default.
A high-performance culture is critical for building employee commitment and enthusiasm, acting with speed and flexibility and driving and sustaining growth.
Organizations with high performing cultures are characterized by:
A clear, compelling, cogent, well-communicated vision & mission to shape business decisions, generate customer loyalty and inspire employee passion and maximum contribution

Shared organizational values that guide people as well as influence business practices and decisions as the organization delivers on its promises to all its constituents

An environment that encourages individual ownership of both the organization's bottom-line results and its cultural foundation.

The Markum Group, LLC
can meet you where you are - whether you are trying to radically redefine your culture, leverage your existing culture to survive these tumultuous times, sustain the cultural underpinnings that have brought unprecedented success or fall somewhere in between.
The Markum Group, LLC can help you develop a cultural design strategy for your organization and provide tools for:
Diagnosing and measuring your culture's strengths and weaknesses - and for determine how it needs to change.

Ensuring your management team shares a clear purpose, defined organizational values and ambitious business strategy designed to shape your culture.
Equipping leaders at all levels to communicate, model and inspire commitment to your strategic priorities and the values that drive a high-performance culture.
Increasing the effectiveness of individual leaders as change agents through executive coaching.
Helping all employees translate the organization's values and business drivers into tangible day-to-day actions.
Ensuring the alignment, productivity, engagement and retention of your workforce after a major change.
Contact Onzelo at 832.377.1031 or via
e-mail
when you are ready to jump start or accelerate your journey towards high performance.
---